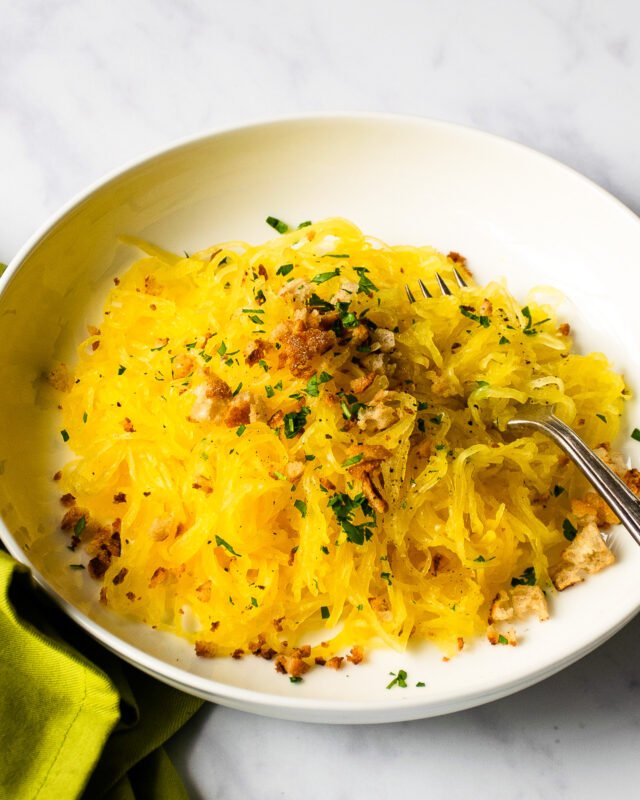 Spaghetti Squash makes a great low carb option for pasta or it can be a vegetable side dish all on its own. Here are three ways to cook it – in the pressure cooker, the oven or in the microwave.
INGREDIENTS
1 

spaghetti squash 

halved and seeds removed

salt and freshly ground black pepper

olive oil 

optional

2 

CUPS 

toasted coarse breadcrumbs

½ 

CUP 

grated Parmesan cheese

¼ 

CUP 

chopped fresh parsley

extra virgin olive oil
INSTRUCTIONS
Season the cut side of the spaghetti squash with salt and pepper. Place the spaghetti squash halves, cut side down on a rack in the pressure cooker. Add 2 cups of water to the cooker and lock the lid in place.
Pressure cook on HIGH for 15 minutes (depending on the size of the spaghetti squash, you may need more or less time). Reduce the pressure with the QUICK-RELEASE method and carefully remove the lid.
While the squash is cooking, combine the toasted breadcrumbs, Parmesan cheese and parsley. Season the crumb mixture to taste with salt and freshly ground black pepper.
Remove the spaghetti squash halves from the cooking appliance using tongs. Let them cool for at least 10 minutes. When they are cool enough to handle, scrape the squash with a fork, pulling the strands of squash away from the skin. Toss the spaghetti squash with the breadcrumbs and a little extra virgin olive oil and serve.