Do you love homemade croutons? Make delicious buttery croutons in your air fryer. You can make flavorful crispy seasoned croutons in about 10 minutes in your air fryer.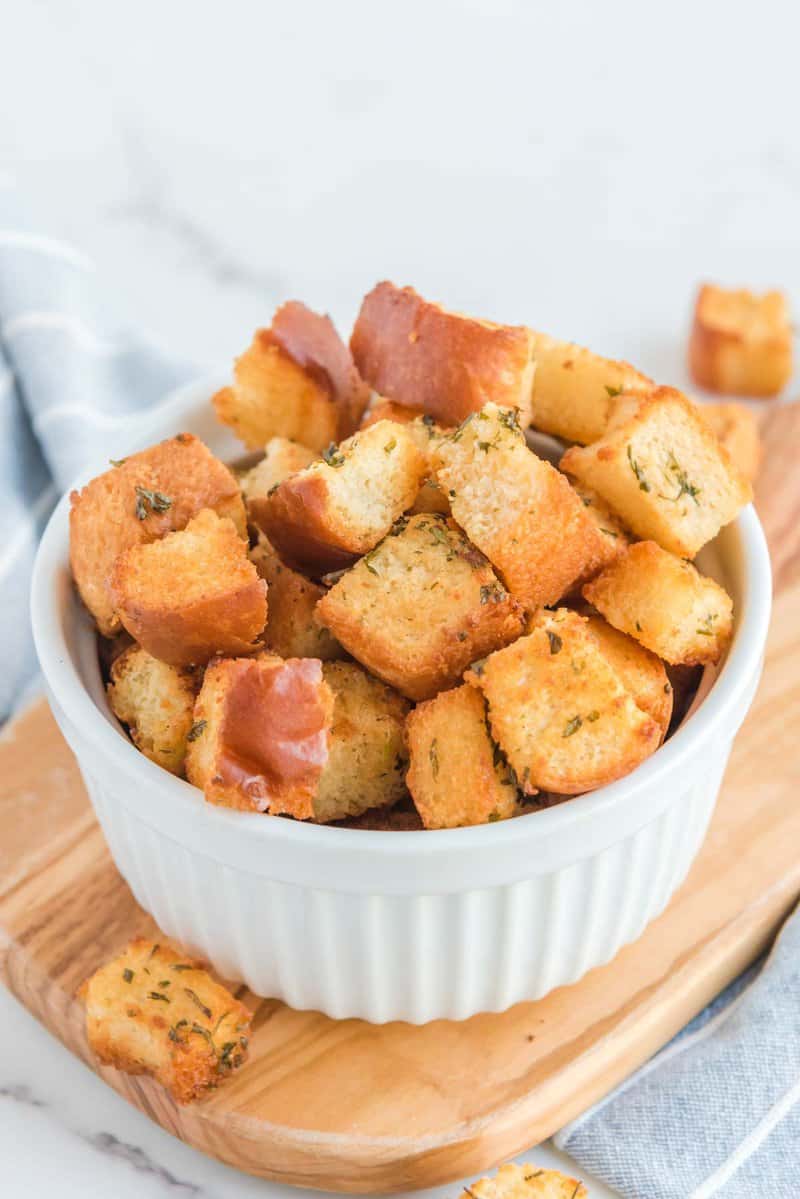 Turn Ordinary Bread into Flavorful Croutons
You don't need to buy fancy bread to make these salad toppings everyone loves. Turn ordinary sandwich bread into delicious crispy croutons. You could use leftover baguettes, loaves of French bread, or other bread.
It doesn't matter if the bread is white, wheat, or pumpernickel. All you need is a few slices of leftover bread, butter, and some seasonings and you can get started.
Stale bread is perfect!
Have you ever had a loaf of stale bread? Perhaps you have a loaf of bread and it's past the point of making sandwiches, as long as the bread is not moldy you can use it to make croutons. Never eat bread after it has turned moldy. Moldy bread is not safe to eat even if you cut off the moldy parts.
Recipe Ingredients
Here's a list of what you need:
Bread – use your favorite bread. Some of my favorite types of bread to use are sourdough, whole wheat, honestly, this is a great way to use up day-old bread.
Butter – you could use olive oil, or avocado oil if you want to make this recipe vegan
Parsley – you could use an Italian seasoning blend if you desire
Onion powder
Seasoned salt
Garlic powder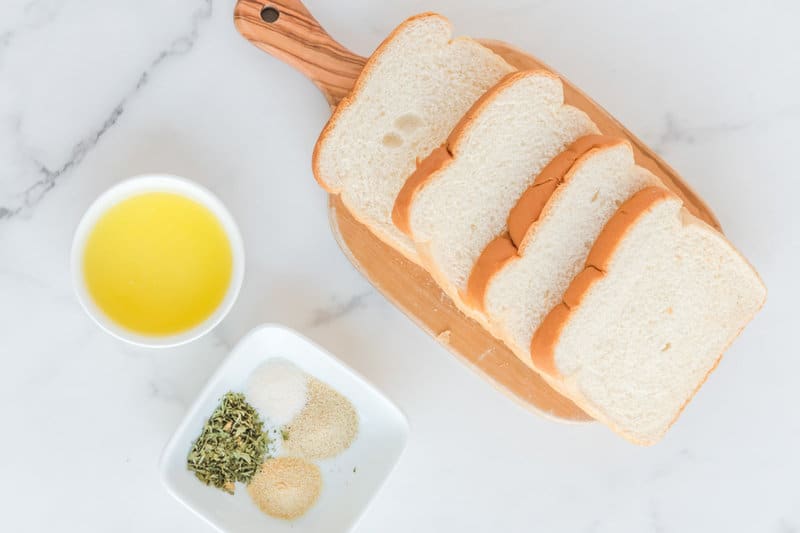 How to Make Croutons
Grab four or five slices of bread. Then grab either a serrated knife or a very sharp knife. Cutting the bread slices with a serrated knife is ideal, as the bread won't tear.
Cut the bread into bite-sized bread cubes.
Melt some butter, and then grab some seasonings. I like to use onion powder, parsley, garlic salt, and seasoned salt. I combine the butter and seasonings together in a medium-sized bowl.
After the seasoned butter is ready, carefully stir in the bread, and stir to coat very well.
Toss the seasoned bread into the basket of your air fryer, and cook these up for about 7 minutes. These will begin to smell fragrant.
After air frying for 7 minutes, remove the air fryer basket, and allow the croutons to cool to room temperature You will have a delicious bowl of homemade croutons. Enjoy these on your favorite salad or soup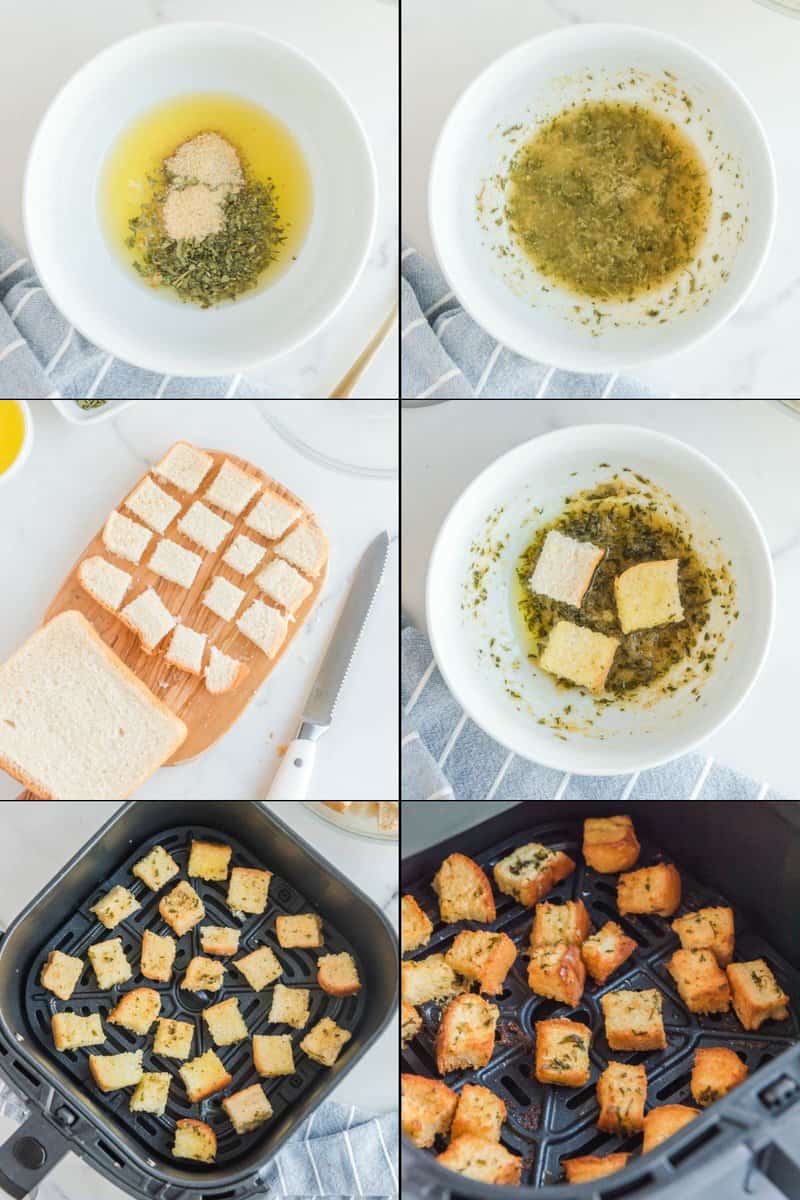 Ingredients
2

 

tablespoons

 

butter

 

melted

1

 

teaspoon

 

parsley

1/2

 

teaspoon

 

onion powder

1/2

 

teaspoon

 

seasoned salt

1/2

 

teaspoon

 

garlic salt

4

 

slices

 

bread

 

cut into bite-sized pieces
Instructions
Preheat the air fryer to 390°F.

In a medium-sized bowl, combine the butter, parsley, onion powder, seasoned salt, and garlic salt. Stir well.

Add the bread to the bowl and carefully stir to coat the bread with the seasoned butter.

Place buttered bread into the air fryer basket and cook for 5 to 7 minutes, or until the bread is toasted. Serve immediately.
Notes
If you have any croutons left over, they can be stored in an air tight container.   Wait until they have cooled completely.   These stay fresh for two to three days.